Great Africa Network for Women e.V. is a faithbased, not for profit Oganisation that works on combating human trafficking and forced prostitution also known as involuntary prostitution of women and girls not excluding boys who have been deceitfully traffic to Europe and forced to prostitute in Germany and other parts of Europe.
We have for many years developed projects and consistently fought against sexual slavery in Africa, especially Nigeria and other Nations of the world. GANW has been created to strengthen the hands of the oppressed amongst us and restore human dignity.
" Look, this was the iniquity of your sister Sodom: She and her daughter had pride, fullness of food, and abundance of idleness; neither did she strengthen the hands of the poor and needy."
Ezekiel 16: 49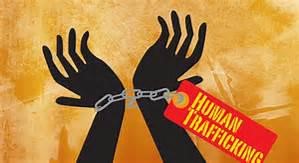 -> Human trafficking is the deliberate and illegal trade of persons for evil activities.
-> Nearly 24 million people are victims of forced labor across the world (ILO).
-> 3.7 million Victims in Africa with Nigeria topping the list of forced prostitution/child labor.
-> African forced prostitutes are sold and resold as common goods
-> 10% of victims are exploited by private individuals and enterprises.
-> 10% are forced to work by the state, by rebel military groups as child soldiers.
-> Sexual exploitation accounts for 22%.
-> 68% are victims of labor exploitation.
-> Victims are usually vulnerable group of the society.
-> Many are women and girls forced into prostitution and
-> Migrant workers trapped in debt bondage.
-> Victims are used for Organ harvest.
-> Street begging.
-> Street hawking and pick-pockets.
-> Child solider
Human trafficking and forced prostitution predominantly remains a danger to the world especially with regards to women and girls. Thus we consider prevention as a great tool to combating this scourge. So much false information disseminated to young women and girls in Africa about their wealth, and better life prospects in Europe to lieu them.
Trafficking in persons is the recruitment, transportation, transfer, harbouring or receipt of persons, by means of threat or use of force or other forms of coercion, of abduction, of fraud, of deception, of the abuse of power or of a position of vulnerability or of the giving or receiving of payments or benefits to achieve the consent of a person having control over another, for the purpose of exploitation. Exploitation shall include, at a minimum, the exploitation of the prostitution of others or other forms of sexual exploitation, forced labour or services, slavery or practice similar to slavery. Servitude or the removal of organs according to Article 3, paragraph (a) of the protocol to prevent, suppress and punish Trafficking in persons (UNODC).
Great Africa Network for Women addresses human trafficking issues through practical strategies such as prevention of trafficking in persons, protection of victims of human trafficking and the prosecution of trafficking offenders through, prevention, intervention and empowerment measures.
Victims have been known to be, women, girls, children and men. Trafficking takes place within a country and across borders with the intention to exploit. Through our network, victims have been empowered through the services we provide, and grown resilient and independent with time.
My name is Rita (not real name) l am 16 years old. One cool evening l was walking down a street in Benin City, Edo State; Nigeria when a young man approached me and intimated…
Christian women who want to become socially involved can complete a short or long-term internship with us. During this time, you will be supervised by our respective team leaders.
However, details must be clarified in advance, also an internship with us for the purpose of career orientation is possible.
We would like to point out that the minimum age for an internship is 20 years, equally important to note is that most of our guests are women. The internship should have a duration of at least 4-6 weeks.
Federal Volunteer Service (BFD)
Since 2021, we have the Federal Volunteer Service (BFD) approval. Applicants for the BFD below 27 years and above are welcome as volunteers.
For membership entry, please use the contact form.

If you would like to support us financially, you can do so in general or for a specific purpose. If you would like to support specific areas of work that are particularly close to your heart, please indicate this in your donation, for example with the keyword "Women vocational center, "prevention projects" or "rescue of victim".
Great Africa Network for Women e.V. is recognized by the tax office for corporations as a non-profit organization, so your donations are tax-deductible. All donors will receive a donation receipt. Therefore, please be sure to provide a mailing address as a first-time donor.
Here you can donate directly online via Paypal
Account holder: Great Africa Network for Women e.V.
BIC: WELADED1PMB
IBAN: DE87 1605 0000 1000 540797
You will receive a receipt for all your donations. Thanks for support.
Impressum
Great Africa Network for Women e.V
Court register:Amtsgericht Charlottenburg
REGISTRATION NUMBER:VR 28453B
write us or contact us on our social media